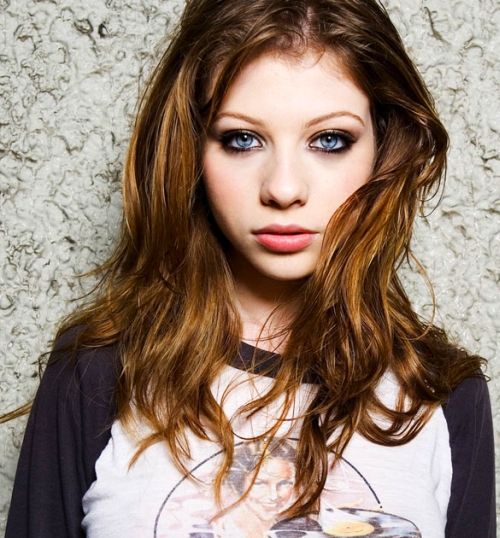 Skyler Nyx Riddle
Riddle Me This....
Full Name: Skyler Nyx Riddle
Date of Birth: December 12th
Location of Birth: California
Age: 15
Race: Caucasian
Sexual Orientation: Straight
Role: Student
Celebrity Claim: Michelle Trachtenberg
Height: 5'5
Weight: 115
Hair: Dark Brown, Long, Wavy
Eyes: Light Blue
Complexion: Fair
Builde: Slender
Personality: Skyler is slightly exuberant, very up beat and friendly. But uses that to her advantage. She is a calculating and cunning individual, which is a stark contrast to her warm personality. Make no mistake, when she knows what she wants she goes for it, and more often than not she achieves in getting it. Her entire personality is completely disarming, because she is charming, mischievous, and entertaining. She has a sarcastic and wry sense of humor, and a playful demeanor. She is more likely to befriend a person than to bite their head off, but she has no problem in seeking revenge when she feels its necessary, or when she wants to prove a point.
She likes bend the rules, and absolutely detests boundaries set upon her. She does everything her own way, on her own terms. She can be a smartass when she wants to be, and crosses the lines frequently. Ultimately, she can be one's best friend or worst enemy.
Hopes: To finish school and travel
Fears: Suffocation, Not being able to see for any length of time, being without her wand
Likes: Reading, Animals, Sarcasm, Pranks, Getting under people's skin, Joking
Dislikes: Authority, Ignorance, Stupidity, Pumpkin flavored anything, Narrow Mindedness
Strengths: Sneaky, Witty, Funny, Sarcastic, Creative, Cunning
Weaknesses: When angry she's like a ticking time bomb, Brutally Honest, Defies Authority, Adventure
Wand: 11 in, Oak, Phoenix Feather
Favorite Spell: Vanishing Spell
Favorite Charm: Disillusionment Charm
Favorite Class: Transficuration
Least Favorite Class: Herbology
History/Autobiography: Skyler was raised, much to her chagrin, as her mother had been. As a pureblood. Her mother had past away shortly after giving birth to Skyler, and she never knew her father or anything about him aside from the fact that he was a muggle her mother met on a ranch where she went to go horseback riding, and that his last name was Riddle, which was the only clue her mother left to her of her father, seeing as she bestowed it upon Skyler. She was taught young how to act and carry herself in a respective manner, how to talk and walk as a pureblood. But like her mother before her, Skyler detested it. She wanted nothing more than to be a normal kid, which more often than not landed her in a heap of trouble.
Skyler developed at an early age a stubborn streak a mile wide, as well as a rebellious streak. She was extremely curious and adventurous as a child, causing the most unlikely of madness and mayhem. Her grandfather found her amusing, and was her only ally against her grandmother, who did not find her wild tendencies to be so amusing, and punished her often. But Skyler was always extremely smart, thanks in part to the schooling she was given early on, and she cunningly decided it was better to get even than to get mad, and therefore welcomed every punishment as a personal challenge.
By the time she was ten, Skyler was fluent in four languages, thanks to the many tutors she had. If she were a less curious and mischievous child, she would've learned them by the age of eight. However, Skyler found her tutors extremely dull, and therefore became bored and distracted more often than not. She would much rather trick the house elves into showing her magic, which she had done on several occasions already, than pretend to listen to her teachers, her grandmother nevertheless was not pleased.
At the age of eleven, Skyler was admitted into Salem Academy, a school for magical children like herself, and there she finally felt free to just be. Being as curious as she was, she had eagerly anticipated the day she would really start training on magic, and get her wand. Not to mention meet kids like herself. And Skyler had no problems making friends, despite the fact she was an only child with no cousins. She was a natural people person, easy going for a child, but not overly trusting. At least not in adults. And even though she always felt the pressure her grandmother put on her to be the best and perform the best, Skyler felt it easy to deal with when at school, and didn't really care much either way. She just wanted to have fun, and she did. Having the natural urge to keep things light and entertaining, Skyler was a natural at causing mischief, and sniffing it out. In school she was more than likely the one behind a prank, along with a few close partners in crime, though her cunning ways ensured they almost never got caught.
But Skyler was 14, her grandfather past away, and she found her life turning upside down as her grandmother relocated them to England to be closer to her godparents, her Skyler had only ever seen twice in her life, but were apparently long time and good friends of her grandparents. Skyler was not at all happy at leaving everything she knew and loved behind, but she had outgrown tantrums along time ago. So instead she was more inclined to not-so-secretly turn her grandmother's hair a shockingly shade of orange and call it even. For the time being.
Parent(s): Selene Kingston, Mark Riddle
Sibling(s): None
Cousins(s): None
Other Significant People: Grandmother - Analaei Kingston
Friend(s):
Enemies(s):
Relationship Status: